Webinar: 03-31-2020 - Telehealth for the School Based OT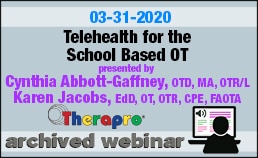 Telehealth for the School Based OT
by Cynthia Abbott-Gaffney OTD, MA, OTR/L and Karen Jacobs, EdD, OT, OTR, CPE, FAOTA
March 31, 2020 - 9:30AM - 10:30AM EST

Please note: given the ever changing rules and regulations surrounding Telehealth services this webinar will be presented as a live webinar only and no recording will be available, you must tune in at 9:30am!

The usefulness of telehealth has never been more relevant than it is today. OT delivered by telehealth has the potential to serve as a practice game-changer. The many positive attributes of telehealth as a service delivery model include: improved access to practitioners & specialists, decreased wait times connected to personnel shortages, decreased travel & other barriers, and improved coordination of care (Winters & Winters, 2004; McCue, Fairman & Pramuka, 2010). While telehealth is an emerging niche for the delivery of occupational therapy (OT) services in the pediatric population, this is a pattern that is anticipated to grow (Cason & Jacobs, 2014; Cason, 2015). To deliver OT services by telehealth, guidelines must be carefully navigated as they vary significantly from state-to-state and within practice areas. A lack of clarity exists in telehealth efficacy research, licensing, and regulatory issues for telehealth and guidelines are constantly evolving and changing (Abbott-Gaffney, 2018). This webinar will provide an overview of essential information needed in these areas, as well as present perceived benefits, barriers and appropriate uses for OT telehealth.

Participants will learn to:
1. Define key terms essential to understanding OT telehealth.
2. Describe licensing and regulatory resources necessary for delivering occupational therapy telehealth services to or from respective states.
3. Discuss three benefits and three barriers of OT services delivered via telehealth.
4. Identify appropriate versus inappropriate uses of OT telehealth.

As per the wishes of the webinar presenters, no recording of this event will be made available.